Spring Soup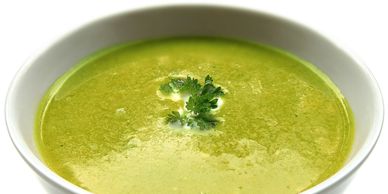 Edamame Soup
Edamame is soybeans that have been harvested when the pod is still green. Boiled in their pods with a pinch of salt. In this dish, edamame is blended into a bright green soup that tastes as refreshing as it looks.
Two Serving,
Ingredients:
5 ounces (150 g.) fresh or frozen edamame beans in their pods.
2 cups (400 ml) kombu stock or Japanese dashi stock.
1 pinch of salt
1 teaspoon soy sauce
2 shiso leaves, finely shredded, optional.
 Boil the edamame in their pods in the salted ware for 10 minutes, then drain. Shell when cool, taking care to also remove the thin inner membrane.
Blend the edamame and kombu stock in a food processor until smooth.
Pour the mixture into the saucepan, add salt and soy sauce, and simmer for 3 to 4 minutes.
Pour the soup into individual serving bowls, and garnish with shredded shiso leaves, if available.
Summer Soup
Carrot and Mushroom Soybeans milk soup
Soybeans milk is delicious on its own as a healthy drink and adds a mild and mellow flavor to soups.
Two Serving
Ingredients:
2 ounces (60 g.) carrot, peeled and cut into 1 cm pieces.
1 cup soybeans milk
4 button mushroom or fresh shitake mushroom, thinly sliced
2 cups of kombu stock or Japanese dashi
1 teaspoon salt
1 tablespoon Japanese cooking sake.
black sesame seeds, for garnish, optional.
Boil the carrot in salted water for 10 minutes until soft
Blend the carrot and soybeans milk in a food processor until smooth.
In the saucepan, combine the mushroom, kombu stock or dashi stock, salt, and Japanese sake, and cook on medium heat for 3 to 4 minutes.
Add the carrot-and-soybeans milk mixture to the saucepan, bring to boil, remove from the heat, and serve garnish with black sesame seeds if available
Autumn Soup
Vegetable Chowder (Kenchin-Jiru)
It contains a variety of vegetables and tofu simmered in kombu-flavored broth. This recipe uses soy sauce, but there is also a miso version.
Two Serving
Ingredients:
1 small carrot, peeled and cut into bite-sized pieces
1 medium onion, cut into chunks
1 medium potato, peeled and cut into haft rounds
1 tablespoon sesame oil (or vegetable oil)
3 cups dashi broth
1 teaspoon sake
2 tablespoon miso
1 teaspoon sou sauce
1 block firm tofu ( 200 g.) cut into cubes.
2 green onions, chopped
In a large skillet, saute the carrot, onion, and potato in sesame oil over medium-low heat for 1 minute.
When all ingredients are coated with oil, add the dashi broth.
Remove any scum on the surface when the dashi comes to boil, add the sake and the miso.
When the vegetable has softened, add tofu soy sauce, and serve and garnish with green onion and dash of chili pepper.
Winter Soup
Varieties and combination of New Year's day soup.
In every prefecture in Japan, they have their traditional broth taste of soup either, dashi broth or miso broth with seasonal vegetables and rice cake (omochi) occasional food eaten during New Year's Day.
Fresh Salad
Seasonal Fresh Salad.
Fresh vegetables are rich in vitamin C and nuts are the greatest source of minerals that makes the skin young and beautiful. It's an appetizing salad. If you serve this often, mind you, your daughters will give you a big smile.
Please follow and like us: